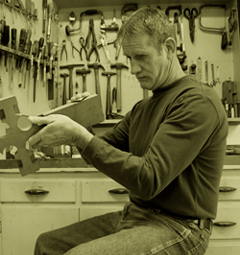 My Unconditional Guarantee
Each cross I make is considered by others and myself a work of art. It takes many hours to produce one cross. If I am not satisfied with the finished cross it does not leave my shop. This is my unconditional guarantee to you.
Joe–Just a note to let you know the cross arrived safely. It is absolutely beautiful!! Like I told you before, I've been looking for one for years. Trust me- not a one I could have found could compare with yours-I mean it. You are a craftsman in the truest sense of the word. Your cross will hang in an honored place in our Irish-Catholic home, and will probably become a family heirloom the kids will fight over some day. Thanks again-have a great, and safe Labor Day. God Bless.
Hi, Joe! Just wanted to let you know that the cross arrived yesterday. It's amazing! So beautiful!! So nicely made!!! I have a friend that is interested in purchasing another one from you. If you're interested,
please let me know if you have one made, or when you might have another ready. ………….and I hope our paths cross again sometime. Thank you for making such a beautiful Celtic cross. You truly have a gift. Thank you for selling this special treasure to me. It has a special spot in my home. Sincerely
Dear Joe I just wanted to let you know that my cross has arrived…all safe and sound. I don't have special enough words to tell you how beautiful I think my cross is. Your work is truly a God-given talent. When I opened the box, the cross actually took my breath away……….. Thank you also for the kind words………. I sincerely hope that we have the opportunity to do business again in the near future. Take care….and God bless….. Sincerely,
Joe, I received the cross today … outstanding! Thanks again!
Hi Joe, I picked up the Cross at the Post Office this morning and it is the most beautiful thing that I have ever seen. My husband got it for me for my birthday and I can honestly say that it is one of the best presents ever!!!! You do such a magnificent job on them I will proudly display it where everyone can see it. Thank you so much for the great craftsmanship and how well you packed it. Have a wonderful day Joe and thanks again!!!!
Joe, Thank You! Thank You! Thank You!!! The Celtic Cross arrived today and far exceeds what I was hoping for. My husband will love it! It is already wrapped in Christmas paper to keep it hidden from the little scoundrel!!! Do you mind if I keep your E-mail address. I would like to get another cross as a wedding gift for our oldest son and his fiance. There is no date set yet, but I will give you ample notice. Thank you again. You are a fine craftsman!